Compatible With Mainstream Water Pumps
Worldwide Delivery Available
Bulk Discounts on Irrigation Instruments
Classic Nasal Irrigator (Formerly AHUN)
Our most popular model, the Classic Nasal Irrigator, is an adjustable spray nasal irrigation instrument, made of durable stainless steel. The irrigator features a soft Sani-Tek Tip nasal cone, with a stainless steel adjustment screw for varying spray flow.
This model provides a gentle cleansing spray adjustable to your needs. The irrigation solution enters one nostril and exits the other.
Replacement tips are available here.
Details
First ever purpose-built professional grade nasal & sinus irrigation instrument for pulsatile use
Heavy duty stainless steel shaft, for added durability
Infinitely adjustable pulsating spray, from fine mist to a dense stream
Replaceable soft and pliable Sani-Tek tip
100% designed & manufactured in the USA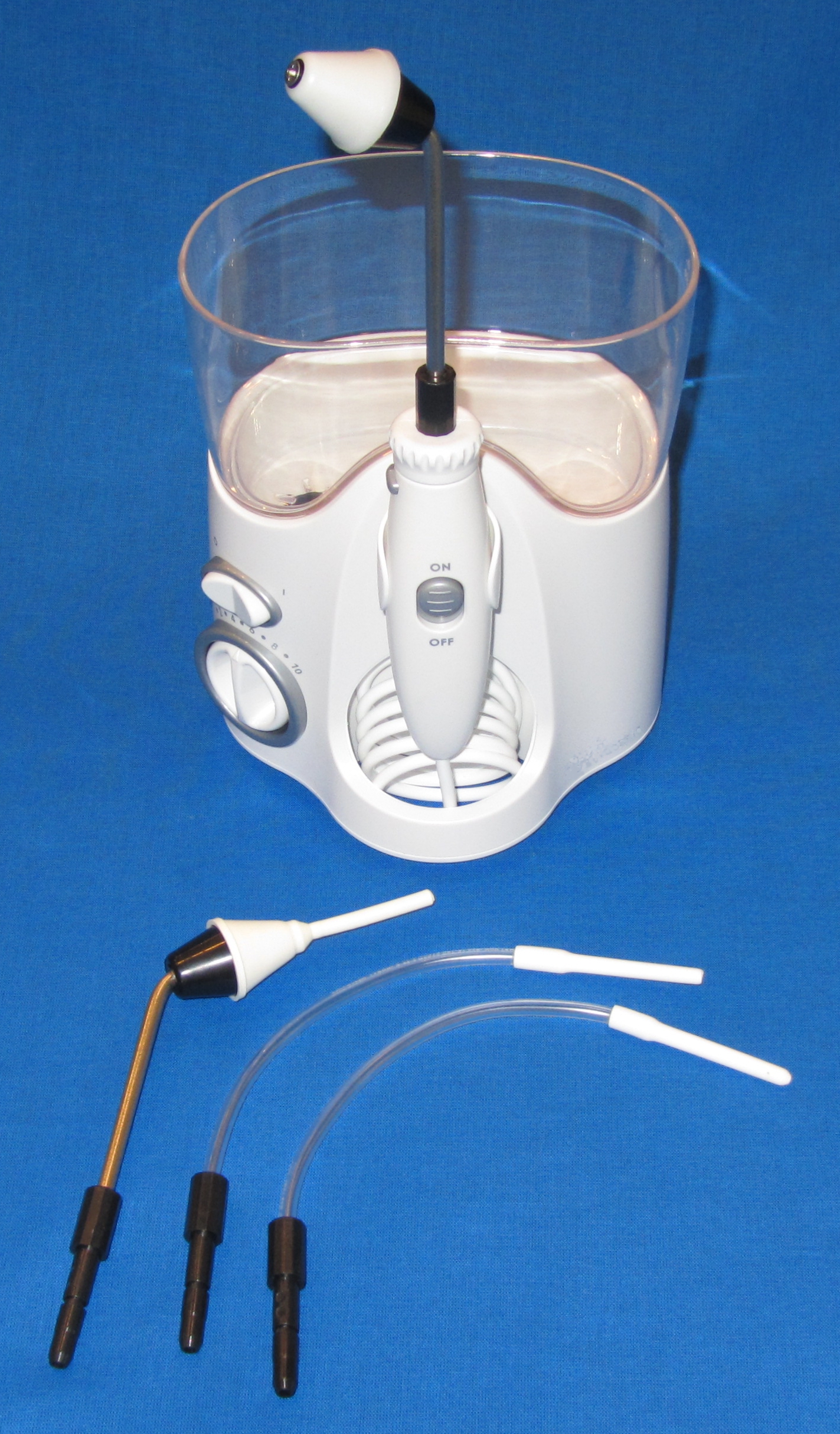 Accessibly designed for easy use with readily available and time proven Waterpik* water flossers. Reducing your cost, while providing greater reliability than other nasal irrigation systems.
Irrigate with Ethicare products using traditional saline or various doctor prescribed solutions. The Ethicare saline recipe is included, eliminating the need for overpriced salt pods or specialty packets.
Why Should You Irrigate:
Naturally the human body is intended to constantly remove sinus mucus. Your sinuses and nasal passages are the gatekeeper to your body, with the mucus being a key way that contaminants, viruses, or other irritants are removed. Yet for many, whether due to occasional environment situations, illness or for chronic reasons, this mucus is not able to exit the sinuses or nasal passages in the way it should. This is where nasal or sinus irrigation comes in, helping you to gentle and effectively use natural saline solution to remove mucus and with it the environmental, viral, or other contaminants.
While nasal or sinus irrigation has been around for thousands of years, medical technology has come a long way, and so has nasal or sinus irrigation best practice. Clinically proven to decrease the frequency, intensity and duration of colds, as well as assorted occasional or chronic sinus illness, pulsatile sinus irrigation is an ideal match for many nasal or sinus issues.
As the first and only purpose built professional grade nasal and sinus irrigation instruments for pulsatile irrigation, using the Ethicare irrigation instruments attached to a standard WaterPik* water flosser can assist your body in removing sinus mucus. This is due to both the gentle pulsing action of the water pump, which simulates the body's natural mucus removal motions, and the special design of the four Ethicare instruments, each addressing a particular set of need.
Ethicare instruments are designed for optimal compatibility. Know the model of Waterpump you will be using, to specific the correct Connector during check out.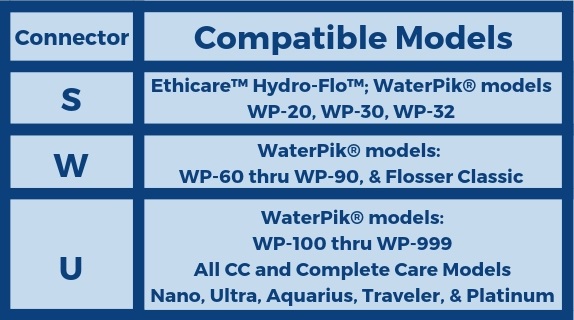 Hygienically extend the lifespan of your irrigation instrument by purchasing extra tips.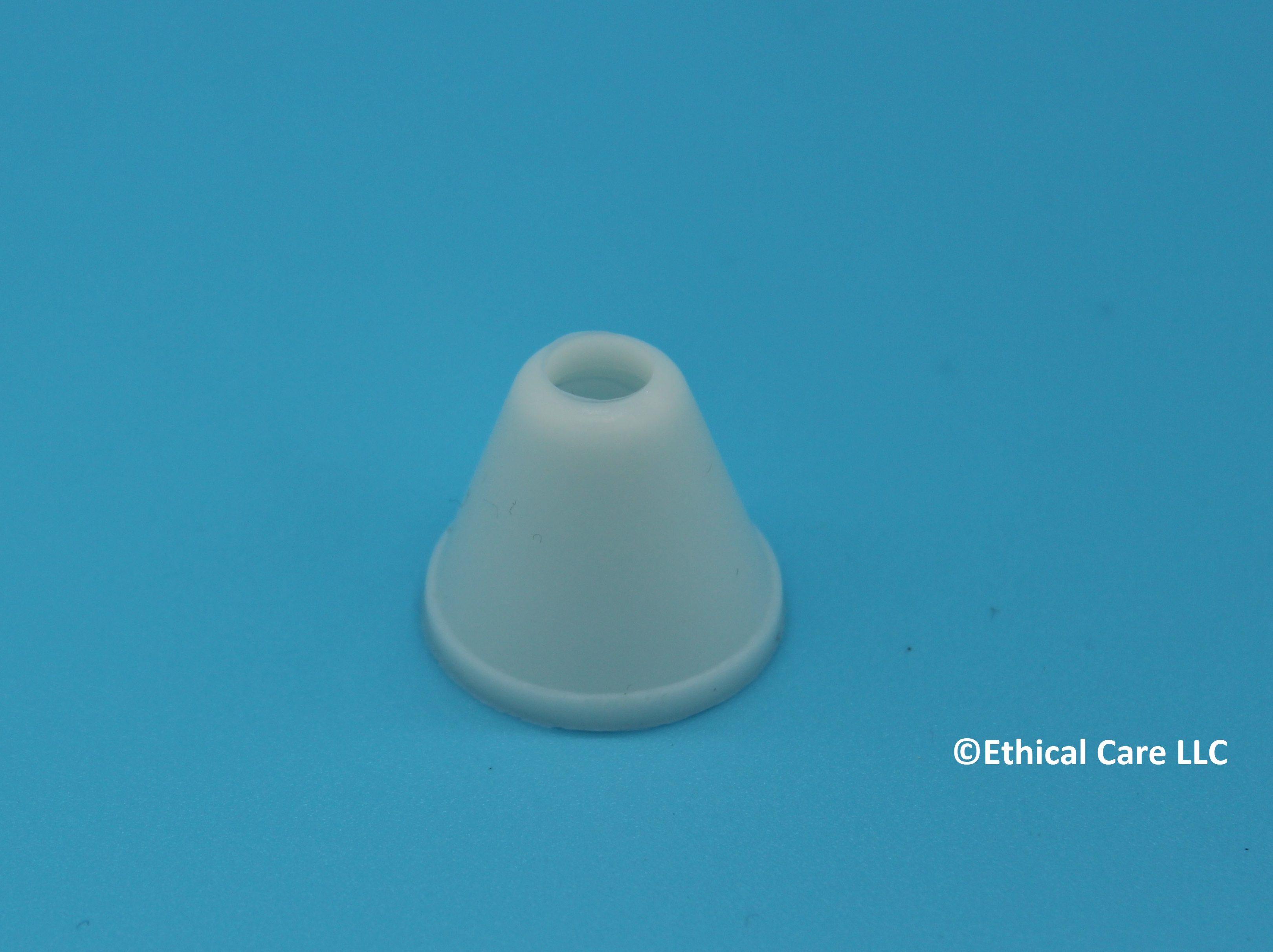 "The Best Nasal Irrigator Ever. This is it!! I recommend it absolutely. I've been using it for 25 years since my sinus surgery. The Doctor sent me home with this irrigator."
Kim from El Cajon, California
"I have been using Ethicare products for years in conjunction with the WaterPik. I enjoy the flexibility of adjusting water flow as necessary"
"I have had chronic sinus problems for the past 30 years. I have to lavage my sinuses morning and night to be able to breather properly and avoid the mucus getting in my lungs and causing pneumonia... Your nasal irrigator is the very best. I have to have a pair and a spare on hand for my peace of mind..."
Nota M from San Diego, California
"I have been using an Ethicare DSI nassal irrigation instrument for 4 years following surgery to remove nasal polyps... I have required no additional sinus surgeries and will continue to irrigate with DSI nasal irrigation instrument..."
Curtis N from Estherville Iowa
"I have been using Ethicare products for more than 10 years. They have had a Life Changing Impact on my health."
John from San Diego, California
More Testimonials
"My otolaryngologist recommended that I try Ethicare's PL-NF-TU nasal passage irrigation instrument. Quickly I realized that Ethicare's device reached places I hadn't been able to with the over-the-counter Neti-pot I had been using. I breathed better and over time had substantially fewer sinus infections than I had before..."
Janet from Silver Spring, Maryland
"I have used Ethical Care for many years. I used to get sinus infections all the time. After using this product, I can't remember the last time I've had an infection."
Ansel from Pensacola, Florida
"I have been using Ethicare products for my sinus irrigation for about 20 years now. The quality is always great and they hold up excellently for use twice a day. The Ethicare team is consistently helpful and promptly sends my orders. Thank you Ethicare! I wouldn't get my irrigators anywhere else."
Julie K from Temecula, California
"After a consultation with the ENT Specialist at Mayo Clinic, they recommended I use the Ethicare nasal irrigation product daily. I have done so and it has solved the problems I was having."
S.K. from Mesa, Arizona - user for 19 years
"I have had sinus problems for years. For me, the continual irrigation with the Ethicare instrument has dramatically lessened my infections!"
"I highly recommend Ethicare...They truly care about their customers. Besides taking time with your concerns to help you, they package their products with great care. They are also very knowledgeable. A 5 star company."
Maureen S from Coconut Creek, Florida
"...I used to suffer from frequent sinus infections. Using the Ethicare AHUN just twice a week has made them a thing of the past!"
Bob P from Greenville, South Carolina
"...Ethicare nasal irrigators are easy to use and durable. More importantly they make my sinus healthy. Try them, you will be pleased you did."
Satisfied User from Boise Idaho
"Ethicare was very helpful when I called them. They were able to match new equipment/accessories to the equipment I was already using... And I will return to Ethicare as the need arises for me."
C.J. McKeown
Registered Nurse
"My Ethicare irrigator product has been a literal life-saver, without question. I honestly don't know how I would survive without it. As a survivor of a rare nasal cancer, one of the side effects has been chronic sinusitis. With the help of my Ethicare product, several times a day, I am able to live a comfortable life and keep the condition under control."
Chris O from Omaha, Nebraska
"...By using this nasal irrigator twice daily with a saline solution, it helps keep me infection free. It is part of my daily routine."
"Based on a recommendation by my Sinus Doctor, I have been using Ethicare products for over 15 years. The products are well made and reasonably priced."
Ed S from Charlottesville, Virginia
"Dealing with sever, chronic allergies requires a multi-pronged approach, and nasal irrigation with my Ethicare irrigator hooked onto a WaterPik - so superior to a Neti-Pot - has been critical in preventing sinus infections and headaches."
Paula B from Oakland, California
Find out more by exploring Ethicare's guidance pages, read FAQs or other customer testimonials
Any remaining questions, reach out to our Ethicare team and we would be happy to help you breathe easier.
* The WaterPik brand name and logos are the registered trademarks of their respective owners. This is not a WaterPik OEM product and is not covered under any WaterPik manufacturer's warranty. Any use of the WaterPik brand name or model designation is made solely for the purpose of demonstrating compatibility.
*The Waterpik® brand name and logos are registered trademarks of their respective owners. Any use of the Waterpik® brand name or model designation is made solely for the purpose of demonstrating compatibility.
**This is NOT a Waterpik® OEM product and is not under any Waterpik ® manufacturer's warranty.